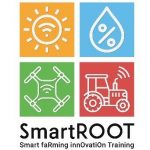 On Thursday, 5th of Nov. 2020, the online kick-off meeting of our latest granted Erasmus+ project entitled SmartROOT: Smart faRming innOvatiOn Training took place. SmartROOT is implemented in the context of the Erasmus + Strategic Partnerships.
The SmartROOT project, which is coordinated by the Associate Professor of the Department of Electrical and Computer Engineering of the University of Western Macedonia Prof. Panagiotis Sarigiannidis, includes 7 partners from 5 countries (Greece, Cyprus, Spain, and Croatia, and Sweden).
Propelled by the necessity for the reduction of the environmental effects from the agricultural and livestock, one of the main pillars of the European agricultural policy, SmartROOT has three main targets. First, to train, educate, and empower the students on smart farming and climate smart farming systems. Second, to tackle climate change and its effects in agriculture and food security aiming to create synergies between mixed farming systems. Third, to pursue the familiarization of primary sector professionals, who promote the circular economy in farms or large agricultural areas.
Towards the aforementioned goals, the SmartROOT consortium will work together to develop digital tools for the proper management of agricultural and livestock units along with the preparation of students with the appropriate theoretical background for this field. Essentially, SmartROOT will relay on the technical know-how acquired through the participation of the Department of Electrical and Computer Engineering of the University of Western Macedonia, Kozani, Greece in a significant number of European and national programs in the field of smart farming and its international recognition in this field.
The completion of the project will result in the development of an international Joint Master Degree for the utilization of the results of the project, but also for the promotion of the educational process in the fields of smart and climate smart agriculture.